Welcome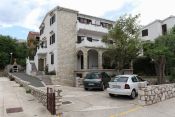 Welcome to the family house Fabijanic in Pag, the city of Pag lace, Pag cheese and salt.
Here you will find peace and everything you need for a vacation, quality apartments, , parking, grill, rooms with a view of the sea, table tennis.
The apartments are equipped with air conditioning, Android Smart TV, satellite TV, a refrigerator with freezer and free internet.
There is only approximately 10 minutes of walk to the center of the city, the mall, gas station, sport facilities, clinic and pharmacy. The house is 250 m away from the sea.
Come, we will be happy to guest you.

» Apartments Pag Spavalo
City Pag, island Pag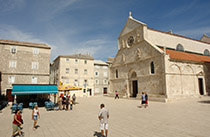 The city of Pag is the most historically and culturally interesting place on the island of Pag which remembers a long and turbulent history which numerous monuments can testify.
The city of Pag itself has relocated a few times during its history to be in its present located. The city started being built in the 15th century by architect-urban plan which was made by one of the greatest Croatian builders Juraj Dalmatinac. The very center of the city of Pag today is mostly preserved and renewed. Valuable cultural and historical monuments are: The parish church of St Mary on Kralja Petra Kresimira IV square (St Valentine's reliquary and a miraculous crucifix), the old Tower, the remnants of the town walls, Duke's palace .
» City Pag
Apartments
Air conditioning, Android smart tv, SAT/TV, Free Internet, Parking
Contact
Tel: +385 (0)23 612453
Fabijanić Ante Spavalo
Put Murvice 10
23250 Pag
island Pag
Croatia

GSM: +385 (0)97 724 0826
GSM: +385 (0)98 178 5481
GSM: +385 (0)91 795 3122
E-MAIL: info@spavalopag.com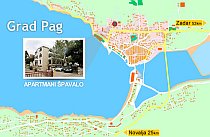 Photo Gallery